When planning your vacation in Todos Santos, Villa Santa Cruz is a unique boutique hotel that strives to offer guests a unique experience set in a beautiful landscape with upscale amenities and warm hospitality. Set on approximately 20 acres, this hotel Baja Mexico in Todos Santos allows its guests to feel as though they have entered into a private sanctuary that is connected to the natural rhythm of Baja – experiencing beautiful sunrises and sunsets, following the stage of the moon and rise and fall of the tides.At Villa Santa Cruz, enjoy our rooms and grounds – complete with a touch of luxury while still paying homage to the authentic hacienda-feel of old Mexico. Click to view our brochure.
A Quick History
Although the main Villa appears to be a piece of Old Mexico, construction was not completed until 2006. Villa Santa Cruz opened as a four-room boutique hotel in 2011, where over the years, it has grown to include a total of fifteen rooms, bungalows, suites and now luxury glamping-style tents. Along with its amenities such as a saltwater pool and jacuzzi, a seaside palapa, and, most recently, a beachfront restaurant, The Green Room, the property exudes a peaceful vibe, truly highlighting the beauty of the landscape.
Certainly, guests appreciate the slow evolution of the property over the years. This has preserved the exclusive feel and quietness that is at the very heart of our hospitality philosophy. Staying at Villa Santa Cruz offers a guest experience that is unscheduled, unhurried and in close connection with the natural beauty and rhythm of Baja.
Hospitality & Meals
At Villa Santa Cruz, morning coffee service, breakfast, and lunch are the focus of our day at this hotel Baja Mexico. For example, our hotel staff begins the day by delivering a tray of locally-roasted coffee/tea to each guest's door along with a homemade pastry. When they wake up, guests can sip their coffee and enjoy a quiet morning, appreciating the incredible view from their private balcony.
Guests can choose to head to the main Villa's outdoor dining area for breakfast, overlooking the iconic green of the Pacific dune mangroves, where they can enjoy a delicious and hearty Mexican breakfast. Alternatively, choose our room service option and delight in a private in-room breakfast.
The meal begins with freshly squeezed juice, local fruit, and coffee or tea before selecting a main course from our breakfast menu. Chilaquiles and Mexican eggs with  handmade tortillas are a few of the favorites.  All dishes are prepared by Isabel and Jazmin, a team of sisters-in-law who serve tasty dishes inspired by family recipes. All guests staying at this hotel Baja Mexico can appreciate the bold flavors and culinary touches that are characteristic of the Todos Santos area.
Our gracious and warm hospitality will make you feel as if you are in your own home at Villa Santa Cruz. 
The Guest Experience
Thanks to the private and secluded location at Villa Santa Cruz, a hotel Baja Mexico, guests can revel in the beauty of Todos Santos. Take a morning to walk the pristine stretch of white sand beach and appreciate the solitude of the undeveloped north coast or the relaxing activity to the south at the world-famous La Pastora surf break.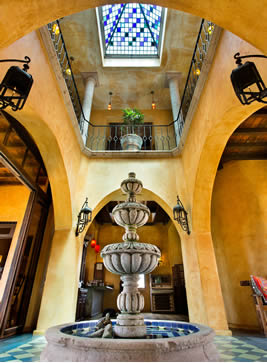 Later in the day, perhaps head out to the pool for a swim. Enjoy a delicious lunch menu highlighting classic Mexican cuisine such as tortilla soup, shrimp with chile rellenos, guacamole and more. Try all the sauces, soups, salsas, and fresh tortillas made in the kitchen with 100% fresh, quality ingredients. Lunch is available daily from 12 noon to 2 pm in our Villa Cocina.
As the sun begins to set, walk up the sand dune and climb to the Palapa crow's nest located on the Villa's beachfront. Here, guests have a front row seat to watch  magical sunsets and majestic whales. Take a moment for quiet meditation while the evening clouds light up in reds and oranges, reflecting the golden light of the sun.
Once the sun has set, stroll through the rustic beach gate and walk a short 188 steps on the sand to have dinner at the onsite oceanfront restaurant, The Green Room. The Green Room is an informal dining experience that offers modern Mexican seafood dishes and a full bar (1 – 9 pm daily). With your toes in the sand and the night sky above, you can end your day with a drink in hand, toasting the best of the Baja experience and the best experience that only this hotel Baja Mexico offers.
Details
In sum, each Villa Santa Cruz accommodation includes private bathroom, balcony, and ocean view.
Room Rates Include
– Welcome Margaritas
– Tray of coffee/tea delivered to your room in the morning
– Hearty Mexican breakfast
– Fine Cotton Bathrobes
– Wi-Fi (throughout the Villa and Pool)
– Purified Drinking Water
* Lunch and drinks offered daily from the Villa Cocina.