Glamping Todos Santos Baja California Mexico
The beautiful beaches of Todos Santos have become an increasingly popular getaway. Breathtaking sunsets and favorable weather make glamping Todos Santos Baja California Mexico an incredible experience. Views of tall, elegant saguaro cacti, the Sierra de Laguna Mountain range, and starry skies create an unmatched atmosphere away from day-to-day life. An up-and-coming global destination, this Baja California Sur town offers exciting new experiences to its visitors while maintaining its traditionally serene environment. Its expansive food scene and artisanal shops line the cobblestone streets of this unique surf town.
Many people enjoy this colorful town and glamping Todos Santos Baja California Mexico because they can enjoy the zillions of stars in the sky.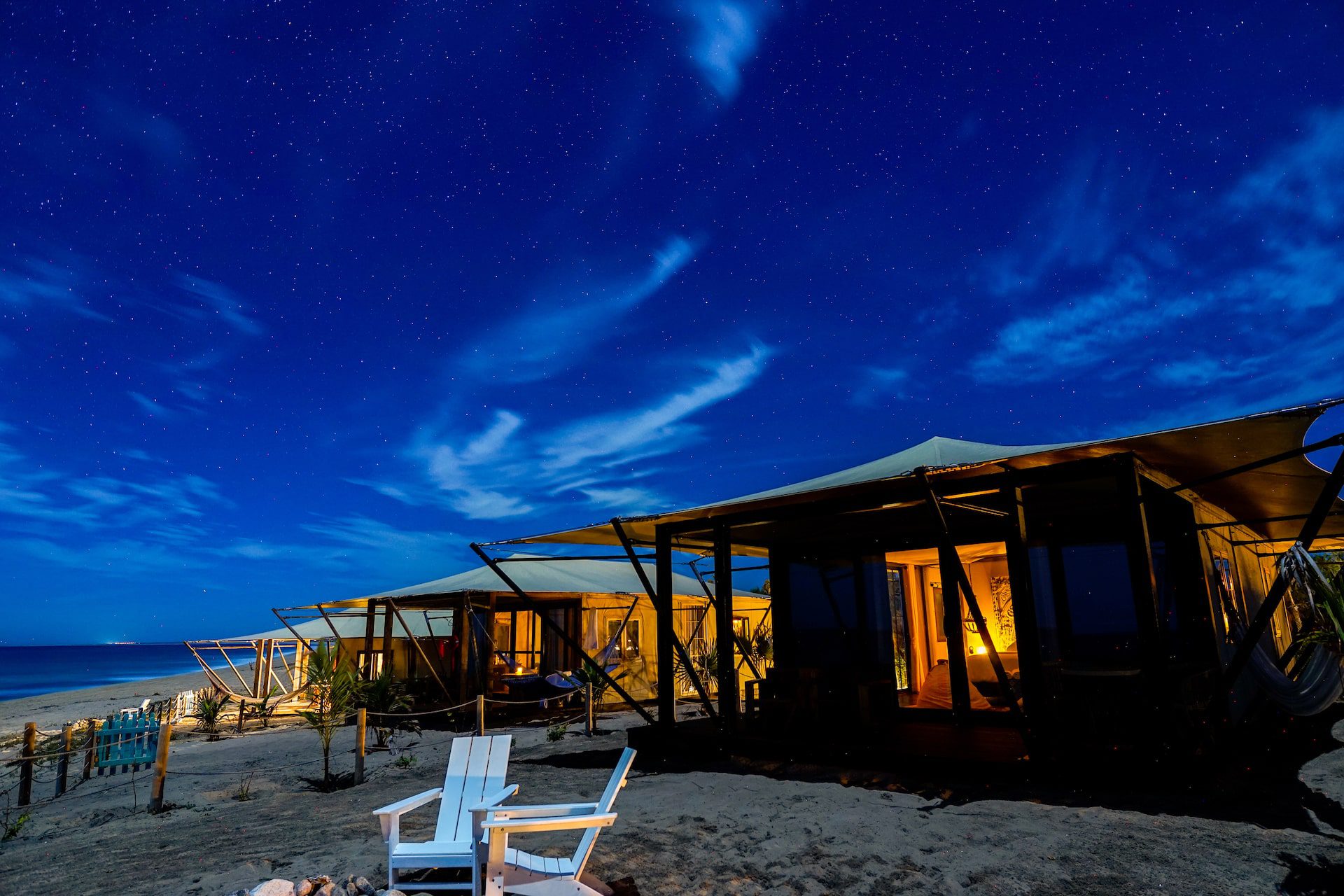 Escape the hustle of the routine in Todos Santos
Glamping Todos Santos Baja California Mexico for guests seeking a more refined way to connect with nature and disconnect from the hustle and bustle of work or studies. Guests will find their long-sought oasis at Villa Santa Cruz, perfectly nestled in a natural landscape, without sacrificing the comfort only a boutique hotel can provide. Glamping Todos Santos Baja California Mexico experience was designed for guests to rest and recharge in style, spend time with loved ones, and reconnect with those who matter most. You can watch the sunrise over the Pacific from the comfort of your king-sized bed, a spectacular way to start your day, along with coffee/tea delivered to your door in the morning. We know that the most important thing is for guests to enjoy all nature has to offer, making glamping Todos Santos Baja California Mexico the ideal vacation for those looking to experience Baja in luxury accommodation. Villa Santa Cruz offers different rooms that fit all of your needs and at the same time set a unique experience.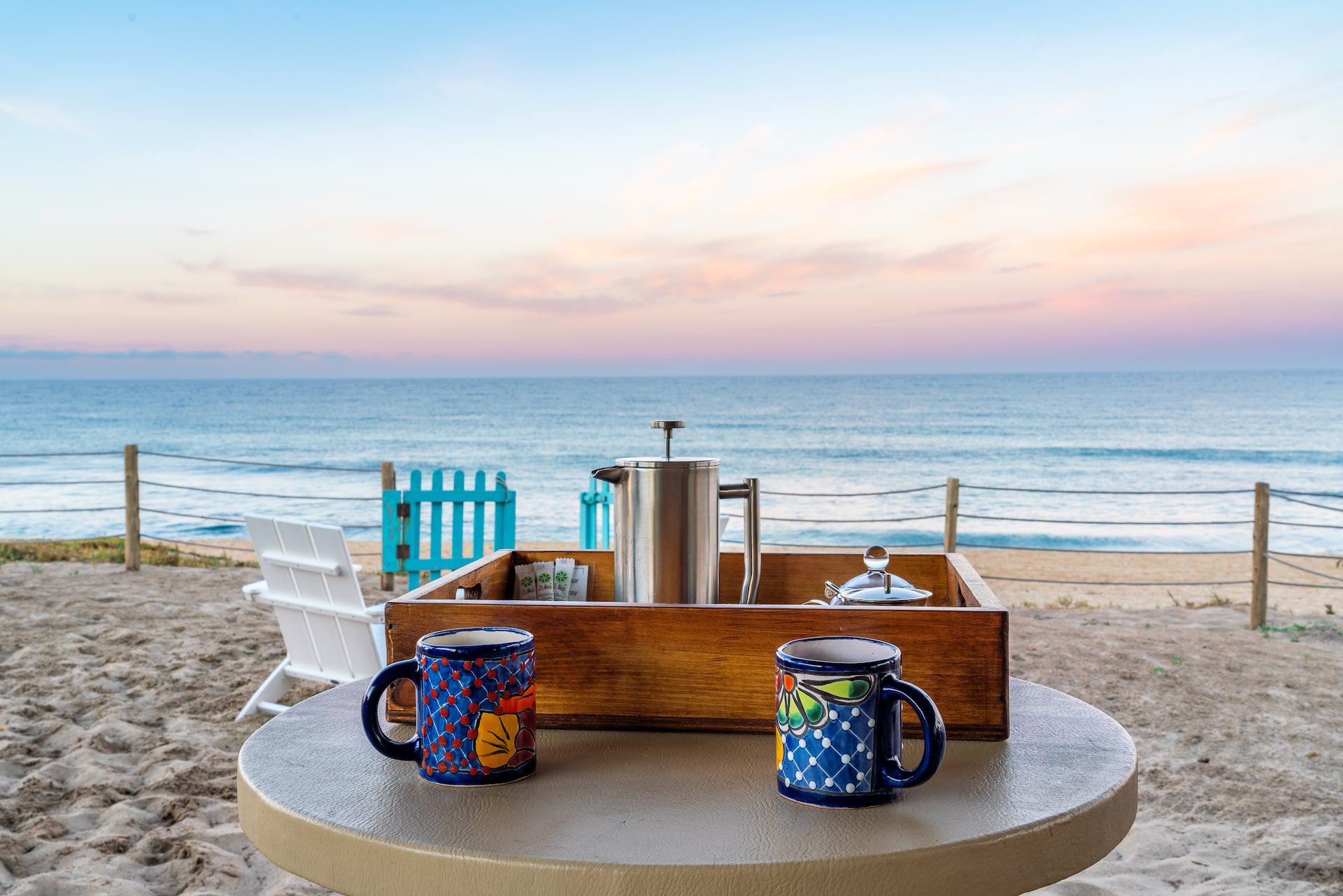 Perfect rooms for Glamping & Relaxation
Our Tented Ocean Suites were designed with all the comforts of a hotel room, a full bathroom, double vanity, separate shower, and bathtub. Its ocean view and comfortable patio allow guests to enjoy a bonfire, a symphony of waves crashing in the background. The Beach View Bungalows offer panoramic views of the beach in a more intimate setting. Its secluded entrance, accessed through a wooden bridge, sets aside these rooms for a more private feel. The private decks are perfect for disconnecting in this star-studded beach paradise of Baja California Sur.
The Bungalow Double Queen Coco provides a private and luxe garden view experience. Located in the southern part of the property, on the first floor, it has an easier walk to the pool, providing guests with the flexibility to access the hotel. The beautifully tiled patios are perfect for relaxing in your home away from home. Take time to stay in one of these beautiful rooms and experience a sense of adventure that can only be experienced in Mexico.
We will provide our guests with a relaxed experience and an amazing time in our facilities in Baja Mexico.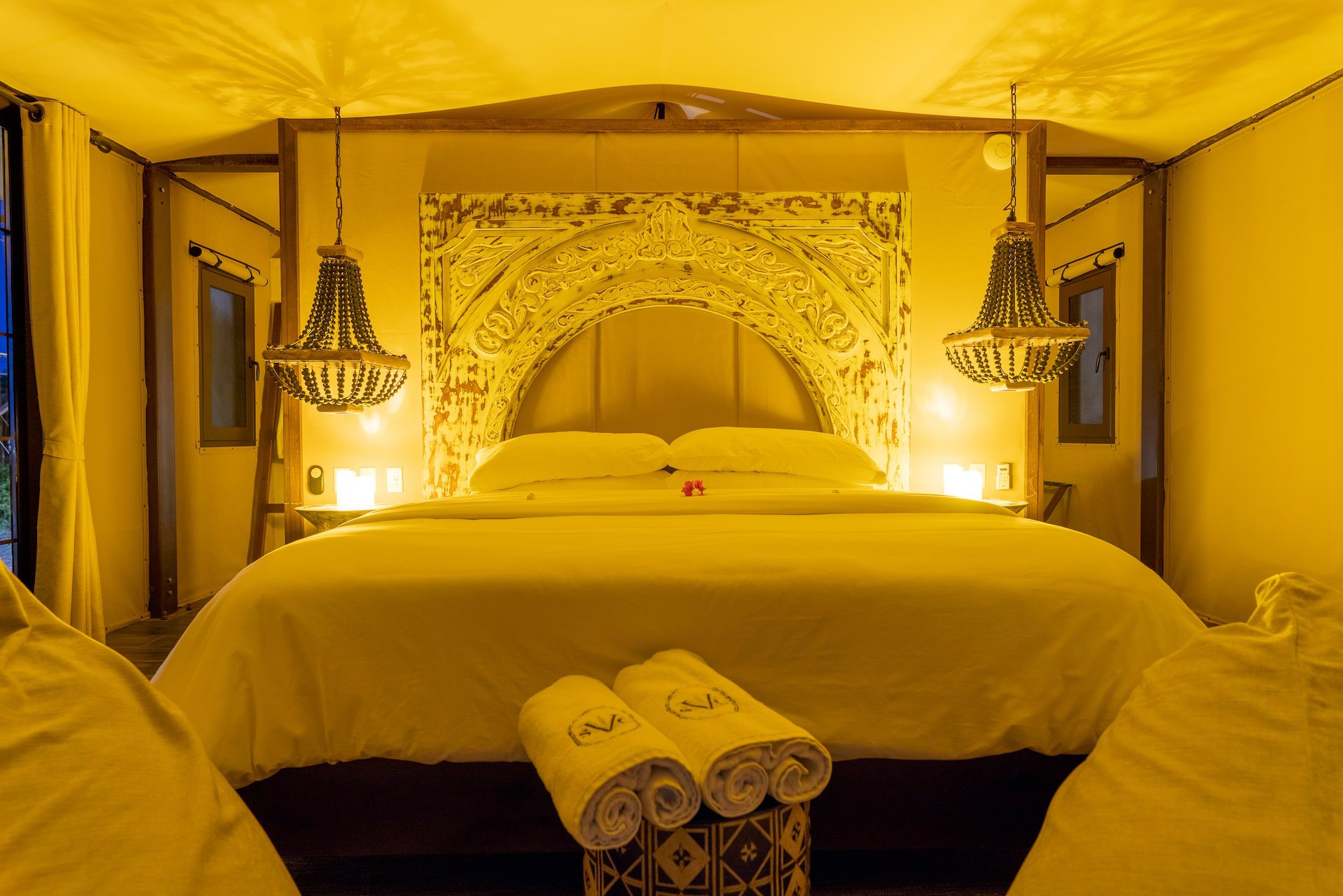 Flavors that will surprise you
Todos Santos is a well-kept secret, a designated Pueblo Magico, that highlights the local flavors of Baja California Sur. The Green Room restaurant invites guests to enjoy a margarita and delicious seafood with an expansive ocean view. Even while you are glamping Todos Santos Baja California Mexico, an exquisite dinner is still within reach. Travelers can enjoy a loaded tostada and fresh seafood with their feet in the sand, under romantic bistro lights. Our restaurant makes it easy to embrace nature at Villa Santa Cruz. Named after the translucent green light reflected in the waves of the Pacific surf, The Green Room gives guests the best ocean view in Todos Santos.
Spectacular weddings
Glamping Todos Santos Baja California Mexico offers a change of setting and a unique wedding, unlike those of a stuffy ballroom. A pleasant evening where your guests are sure to have an unforgettable experience in Baja California Sur. Dining under the stars at Villa Santa Cruz with its magical and romantic ambiance, your special day will be remembered for its unmatched atmosphere—and delicious cocktails. At Villa Santa Cruz, we are experts in customer service, and we will guide you in finding the perfect setting for your special day. Our facilities provide the warmth that only Mexico has to offer. So, whether you want to experience new flavors, disconnect from day-to-day life, organize a wedding, or simply go on a well-deserved vacation, Villa Santa Cruz has the perfect location and ambiance for the getaway of a lifetime.
In the Wild
Baja California Sur is a prime destination for whale watching. By glamping Todos Santos Baja California Mexico, you'll spy whale spouts right from your Tented Ocean Suite. The Gray Whales and Humpbacks can be found breaching and spy-hopping November through March, just off the shores of Todos Santos.
Bird watching is also a once-in-a-lifetime experience on the Baja Mexico peninsula. Distinctive birds such as Wilson's warblers, house finches, Western tanagers, northern mockingbirds, cactus wrens, and Xantu's hummingbirds line the streets of this tropical paradise. The variety of life in Todos Santos leaves travelers feeling energized and mesmerized by their experiences.