In 2001, Villa Santa Cruz founders, Matt Canepa and John Brown, came down the Baja Peninsula and camped just north of Todos Santos. They knew immediately that the area was special and fell in love with the beaches, mountain views and solitude of the landscape. After just a few days in Todos, they learned that a 45-acre parcel of raw land, known as Rancho Santa Cruz, was for sale. For at least fifty years before this, Rancho Santa Cruz was a rich farmland that grew all kinds of crops – sweet potatoes, papaya and more. When Matt & John saw the property, it was love at first sight and they quickly decided to buy it. Over the next few years, they transformed the raw land into today's Villa Santa Cruz, designing the Villa themselves on cocktail napkins, inspired by architectural features and unique elements they saw on their travels throughout Mexico (i.e. retractable skylight, mosaic floors, gas lamps). They oversaw the construction of the Villa, the Pool, the Palapa, and landscaping, completing these projects in 2006.
Later that same year, Matt met his future wife, now Jessica Canepa, when she came to visit Todos Santos on a family vacation. Matt proposed one year later in the Villa's Palapa and in 2009, the couple was married on the Roof Terrace. After two years living together in San Francisco while Jessica started a career as an attorney, the couple decided it was time to get out of the rat race and make Todos Santos their full time home. Once here in Todos, they began converting the estate into a Boutique Hotel, officially opening its doors in March 2011. Matt & Jessica continue to operate Villa Santa Cruz and enjoy hosting guests from all over the world.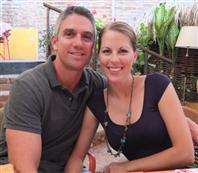 Want to find out more about our story? Click the following links to learn about our journey to create Villa Santa Cruz.
The Journey Begins! Buying the Property (2001 – 2002)
The Lettuce Debacle and Breaking Ground on the Villa (2002 – 2003)
Weathering the Storm (2003 – 2005)
We hope to finish telling our saga in the upcoming year! Stay tuned.