Over the weekend, a gorgeous wedding took place at Villa Santa Cruz, Boutique Hotel on the Beach in Todos Santos, Baja Sur, Mexico. Jenna and Adam radiated happiness on Saturday afternoon as they exchanged vows on the sand and became husband and wife in front of an intimate group of 55 guests. It was a special event for us at Villa Santa Cruz because the beautiful bride, Jenna, is the sister of Villa owner, Jessica. It was such a joy to share the property with all our friends and family. Take a peek into Jenna and Adam's special day!
The bride and her father had a dramatic walk down the Villa's boardwalk to the ceremony site just next to the Palapa. All guests were on their feet to catch the first glimpse of the bride's dress!
Meeting in the Peace Corps in Paraguay and then living in Korea and now Los Angeles, the couple personalized their ceremony by incorporating elements from all the cultures they experienced during their courtship. The bride's cousin, Daniel Cooper, officiated the ceremony.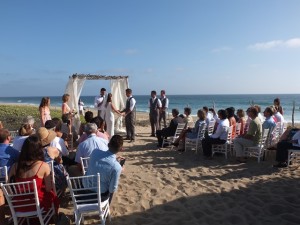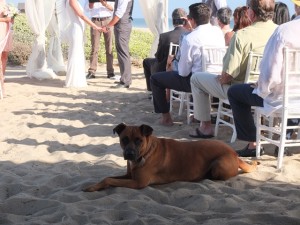 Since this was a family wedding, all members of the Villa Santa Cruz team were there, even Freddy.
This is true happiness!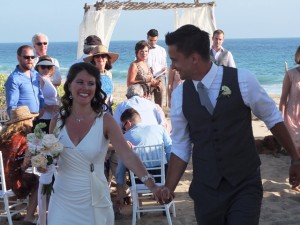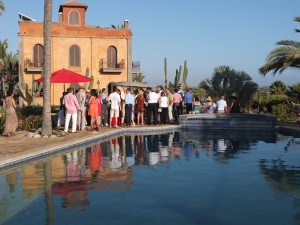 After the ceremony, the wedding group headed down to the pool for cocktails and appetizers. The Hotel California provided a lovely spread of shrimp on rosemary skewers with mango salsa, goat cheese flautas and fresh ceviche.
The couple had huge smiles on their faces as they were introduced to their guests for the first time as husband and wife! Of course, the only song appropriate for such an introduction was Pharrell's "Happy."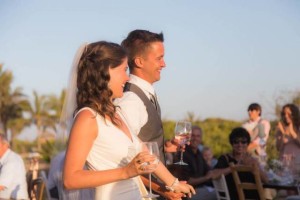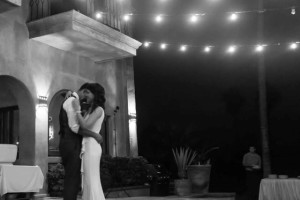 The evening concluded with the release of glowy wish lanterns – the perfect end to such a romantic celebration! We thank Jenna and Adam for letting us share in their happiness. Felicidades!