Sushi has a certain mystère that makes it feel impossible to master at home. So many unknowns are involved….how do you work with seaweed? how do you make that perfect sticky rice? how do you it roll up tightly? what is spicy tuna? Even thinking about the practicalities of preparing sushi at home makes me throw up my hands in frustration and head to a restaurant. Luckily for our guests at Villa Santa Cruz, Boutique Hotel on the Beach, sushi is made easy through lessons put on by La Sirena Eco-Adventures, an activities company here in Todos Santos, Baja Sur, Mexico.
A few weeks ago, Villa guests Johnny, Bonnie, Robb & Barb had the good sense to partake in sushi lessons to celebrate Bonnie's birthday. Francesca Dvorak and Ira Nevius from La Sirena came to Villa Santa Cruz, armed with all things "sushi" – knives, wasabi, siracha, seaweed paper, bamboo rollers, veggies & fish. The crew quickly got to work thinly slicing cucumbers, green onions and carrots for the sushi rolls.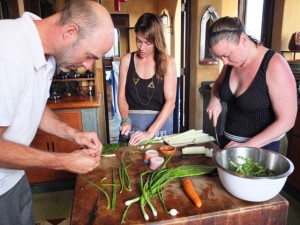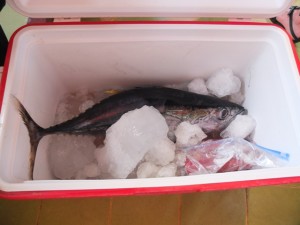 Ira taught the group how to properly fillet the tuna for sashimi and gave instruction on how to prepare spicy tuna – finely dice the tuna and then mix in mayonnaise, siracha and green onions.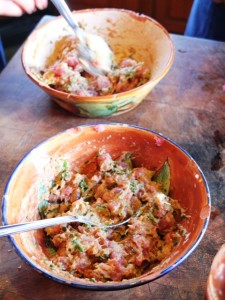 The trickiest part of the operation was assembling and rolling the sushi rolls tightly. Fran & Ira explained how to lay out the seaweed paper, add the rice & toppings and roll it will the help of the bamboo mats.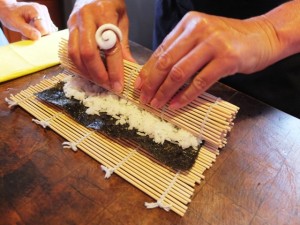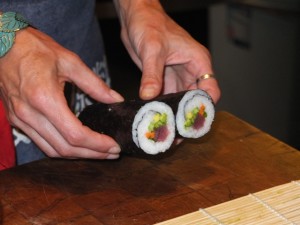 They turned out great – well done, Bonnie!
The group made all kinds of sushi rolls – rice on the outside, rice on the inside, some topped with the spicy tuna, others just with veggies, another with tuna and mango.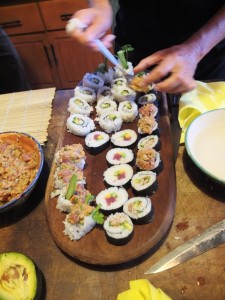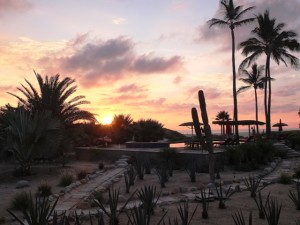 The sunset that night was worth taking a moment to peek your head out the kitchen.What a feast!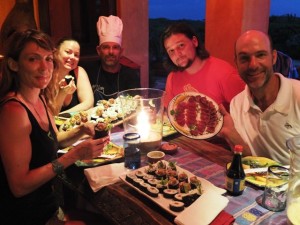 Our thanks to Fran & Ira from La Sirena for the sushi lessons in the Villa Santa Cruz kitchen – a perfect way to learn something new and enjoy fresh Baja foods. Who knew sushi was easy after all?
More Details:
$60/person (small groups of 4-7), $50/person (groups of eight or more). Includes all ingredients, tools, and instruction. Fish selections will depend on the season, but usually include Dorado, Yellowtail, Tuna, and Sierra Mackeral. Vegetarian selections also available upon request.