Villa Santa Cruz, Boutique Hotel on the Beach in Todos Santos, Baja Sur, Mexico was proud to have hosted the beautiful wedding of Emma Bates & Joshua Zar on Saturday, April 28, 2012, with celebrity officiant Neil Patrick Harris. NPH shared his love of Villa Santa Cruz by sending out this tweet to his 3.2 million Twitter followers.
Check out the lovely write-up and photos on the infamous, Pink is the New Blog, in which blogger Trent Vanegas describes the Villa as "one of the most beautiful estates I've ever had the pleasure of experiencing." Don't forget to visit his follow up blog post that has another great photo of the newlyweds with NPH.Here are more details and photos of the beautiful wedding:Under a canopy of papel picado streamers and a bamboo chuppah decorated with flowing white fabric, the couple exchanged vows while their friends and family cheered them on.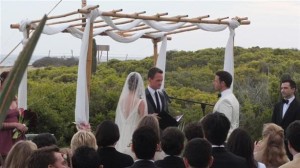 After NPH declared that Emma & Josh were now husband and wife, mariachis poured on to the balconies overlooking the back lawn and congratulated the couple with lively Mexican music.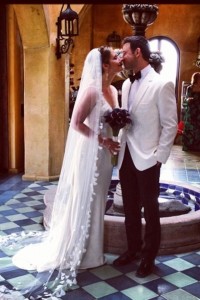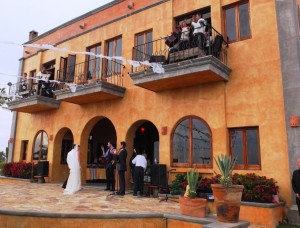 The couple headed inside for another kiss…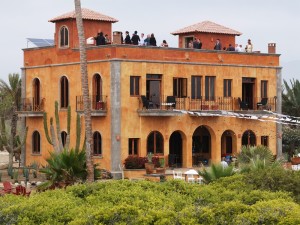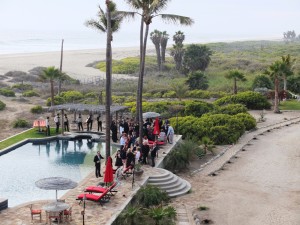 The guests then found their way up to the Roof Terrace and out to the Pool for delicious cocktails and appetizers.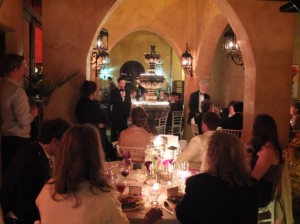 The weather turned a little cool, so the party moved inside for dinner and toasts. The beautiful candles around the fountain, gas lamps, and calla lily centerpieces made for a warm and cozy evening.
After dinner, the party moved outside under a canopy of lights to dance the night away. The evening was capped off with the release of Chinese Wish Lanterns from the Villa's Beach. We wish Emma & Josh the best in their new life together!