Villa Santa Cruz was aglow on Saturday, September 10 to celebrate the union of bride and groom, Katie & Oliver. With a calm breeze in the air and beautiful afternoon light filtering through wispy clouds, the pair exchanged vows on the dunes before 35 of their closest family members and friends. The bride was truly a sight in a lovely sheath style gown, next to her darling flower girls who blew bubbles throughout the ceremony.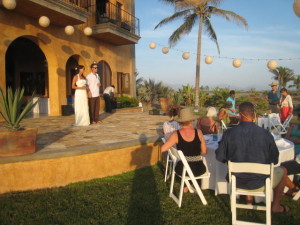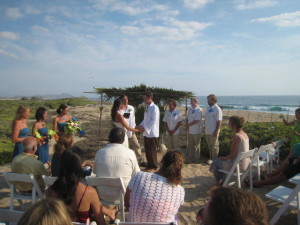 After the ceremony, the newly married couple joined their guests around the pool for cocktails, appetizers and lively Mexican guitar music.
Katie & Oliver then invited their guests to find their seats at the reception and join them for a champagne and tequila toast (yes, tequila from the Villa Santa Cruz barrel)!
Landi's Restaurant catered the wedding and prepared an exquisite traditional Mexican feast, complete with chicken mole and delicious chili rellenos.
After dinner, all the wedding guests went out to the beach in front of the Villa to watch a beautiful sunset. When they returned, it was time to cut the cake (a rich chocolate truffle delight prepared by the Hotel California).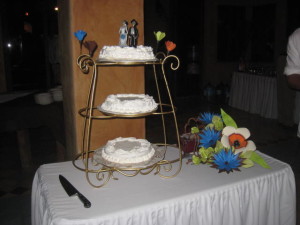 As guests danced the night away (and jumped in the pool for a midnight swim), the full moon was a sight to be seen. The moonlight washed over the Villa and property, providing the perfect ambiance for love.
We wish Katie & Oliver a lifetime of happiness!