One of the very best things about visiting Baja and Todos Santos is the amazing food. From the abundance of fresh produce and seafood to the chefs who magically whip these ingredients into gastronomical delights, visitors to our area are in for a treat. And, if you are looking for a way to take your culinary experience to the next level, we have just the thing – gourmet cooking lessons at Villa Santa Cruz with Chef Dany Lamote, head chef at the legendary Hotel California.
On a recent Sunday afternoon, Chef Dany arrived at Villa Santa Cruz ready to guide me, Matt and our friends through the preparation (and consumption) of an exquisite four course dinner. Chef Dany was ready to get down to business, armed with everything needed for a serious gourmet cooking class – fresh shrimp and yellowtail fish, colorful produce and aromatic herbs, and, of course, a creme brulee blowtorch. We were celebrating a milestone birthday for one of our dear friends, Laura, and loved the intimacy and group togetherness of the cooking class. The Villa, with an open social kitchen, butcher block island, ample counter space, and big chairs (aka "king and queen thrones") in which to relax, is a perfect venue for a group cooking experience.
After toasting to the promise of a great meal with a crisp glass of white wine, Dany gathered the group to introduce us to his cooking philosophy. Originally from Belgium, he explained that his signature style is to combine Mexican ingredients with European techniques. He loves to make exotic Mexican foods more familiar – we'd be incorporating nopales (cactus paddles), cuitlacoche (corn mushroom know as "Mexican caviar") and ancho chile peppers into our meal. He then split the three couples into three groups – each in charge of a different course – and we were on our way down the culinary road.
Max and Laura were in charge of the appetizer course. Their menu included yellowtail sashimi marinated in soy sauce and ginger, shrimp skewered on rosemary sprigs with an orange-saffron-habanero-coconut sauce, pineapple salsa, and crab and goat cheese stuffed peppers (the stuffed peppers were definitely a group favorite).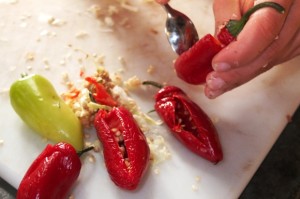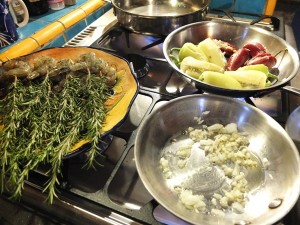 Amy and Dustin were assigned the salad and dessert courses. The dessert, an ancho chile creme brulee, was the most time intensive dish, so they started on that first – boiling the ancho chiles, cream and cinnamon, melting the chocolate, combining the ingredients, pouring into ramekins, and baking for 35 minutes. Once the desserts went into the oven, they jumped over to the preparation of the salads and crostini. They worked on a nopal cactus salad with goat cheese and tomatoes, a mixed salad with agave glazed pecans topped with duck and arrachera steak, and a crostini of puffed pastry, nopales, goat cheese and cuitlacoche.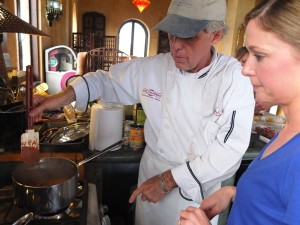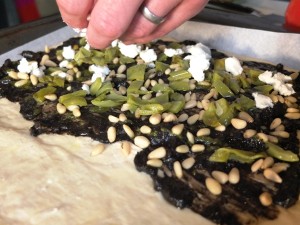 Matt and I prepared two sauces for the fish course, one with tomatillos and one with tamarind. We peeled and roasted the tomatillos and then boiled and strained the tamarind, creating two flavorful bases for fresh yellowtail and halibut. We also made a sweet potato gratin spiced with ginger and Chef Dany's amazing flavored curry salt.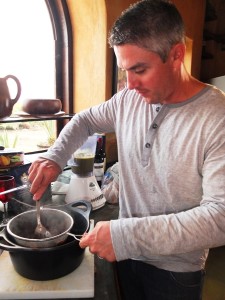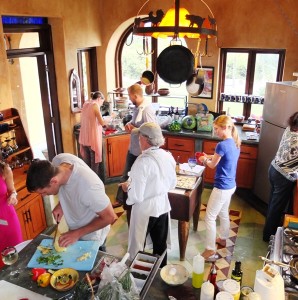 At this point, we were all starting to bulge around the middle, but were ready for the evening's grand finale – creme brulee adorned with huge strawberries. We all gathered in the kitchen to watch Dustin wield the blowtorch to create a perfectly caramelized crust. With a hint of ancho chiles, it was a winner – definitely a recipe to keep in your back pocket to recreate for your friends at home. It was tough to get a lot of birthday candles into those little ramekins, but we made it work!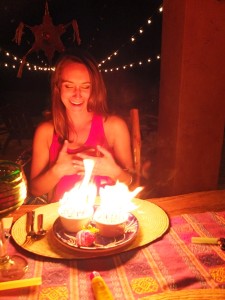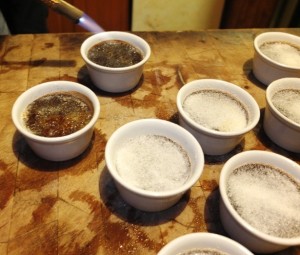 We send our warmest thanks to Chef Dany for such a fun and special evening. Sitting outdoors under the covered patio, listening to the crashing waves, enjoying the warm ambiance of the Villa's gas lamps and soft candlelight, delighting in a gourmet meal with good friends over glasses of wine…life doesn't get much sweeter than this. We highly recommend that all our Villa Santa Cruz guests put it at the top of their Todos Santos "to do" list.
Classes offered daily from 11am to 2pm at Santo Vino (Hotel California's Bistro Restaurant). Chef Dany is available to host an evening class at Villa Santa Cruz on Sunday nights (4+ persons). $100 USD/person for basic class, $175 USD/person for upgrade with wine/tequila (includes 1 glass wine/tequila per person per course)