Carl & Marne's gay wedding at Villa Santa Cruz was not only a dream come true for this awesome couple, but very personal for us as hosts. Matt, the Villa's owner, has been friends with Carl for more than 25 years and we were honored that they wanted to get married at our place – they even asked Matt to officiate the ceremony. We hope to host more same sex weddings in the future, this was a blast!
Escaping the cold and snow in Reno, Nevada in February 2018, Carl & Marne and 45 of their closest friends and family descended on Todos Santos, Baja Sur, Mexico with one goal in mind…..fun! The fun began with the vibrant, colorful Mexican decor – bright paper flowers decorated the balconies, multi-colored pom-pom strings dressed up the wedding arch, and a costumed skeleton welcomed guests upon arrival. And, the grooms donned bright linen shirts as their wedding attire. In contrast to all this color, Carl & Marne requested that all their wedding guests wear white clothing to be a neutral backdrop for all these pops of color. With a lively mariachi, a Mexican themed photo booth, a tequila shot welcome toast and cocktail napkins that proclaimed "Drunk in Love," they built in surprises for their guests every step of the way.
Not only was the wedding energetic and bright, but the couple also thought through every detail, making their celebration so personal and intimate. They designed a beautiful logo that was carried from their invitations to their website and then to the place settings, they engraved the words "I do!" and "Me too!" on their dinner forks, and hung a colorful pashmina on the chair of all female guests. In honor of Marne's parents who are deceased, they created a lovely sign that sat on an empty chair to honor their memory.
It was a night to remember! Here's a look into their special day.
Venue: Villa Santa Cruz, Todos Santos, Baja Sur, Mexico
Coordination: Jessica Canepa, Villa Santa Cruz
Photography: Kenny Viese, Todos Santos
Catering: Hotel California, Todos Santos
Mariachi: Mariachi Baja Sur, La Paz
DJ: DJ Mijares, Los Cabos
Flowers & Decor: Barbara & Jan, Pueblo Mágico Weddings, Todos Santos
Their elegant beach ceremony, complete with Mexican blankets and maracas to shake at the final kiss.  The sign honoring Marne's parents brought tears during the ceremony.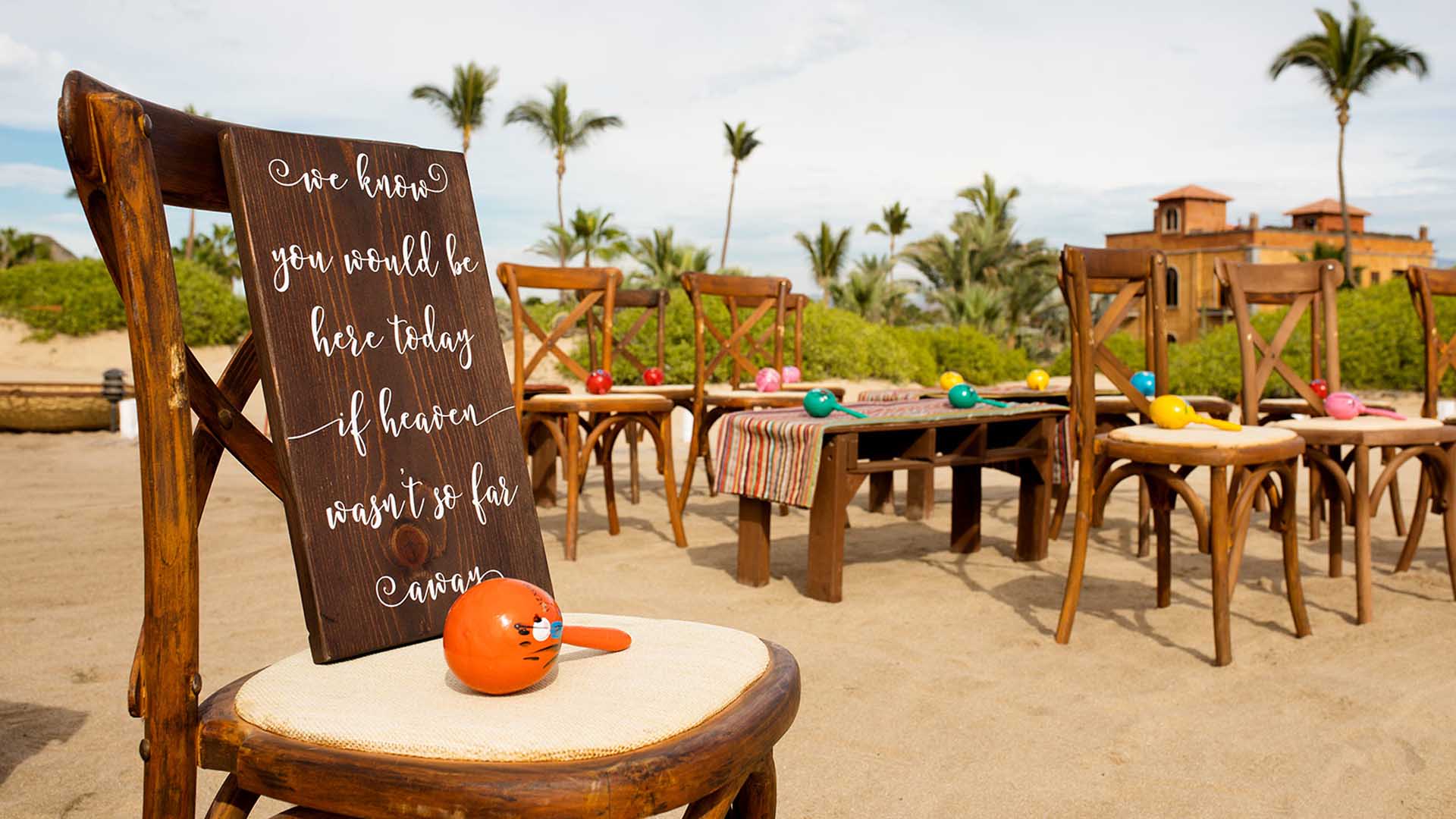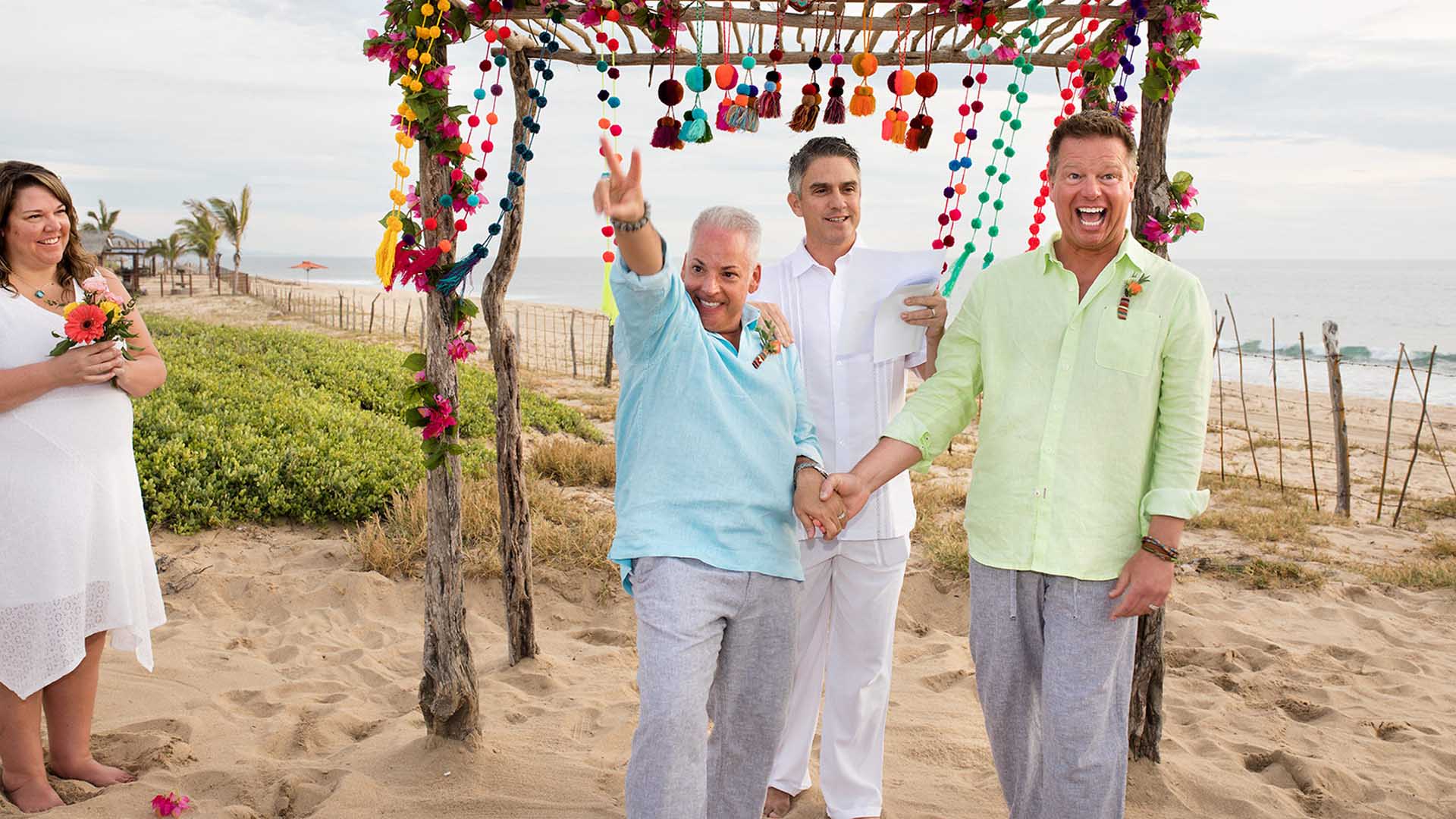 The photographer, Kenny Viese, took beautiful drone shots of the property….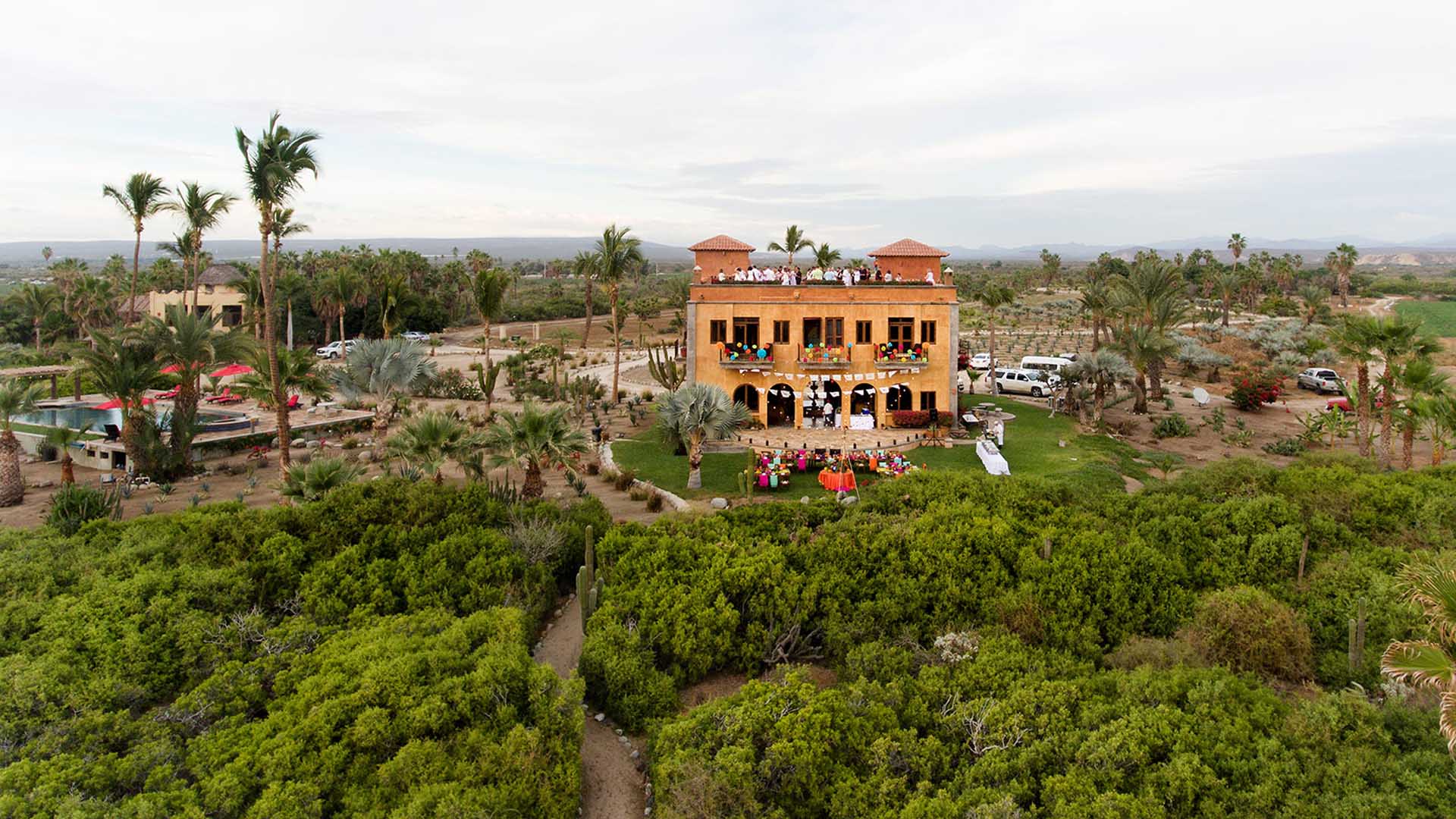 ….and the cocktail party on the Roof Terrace!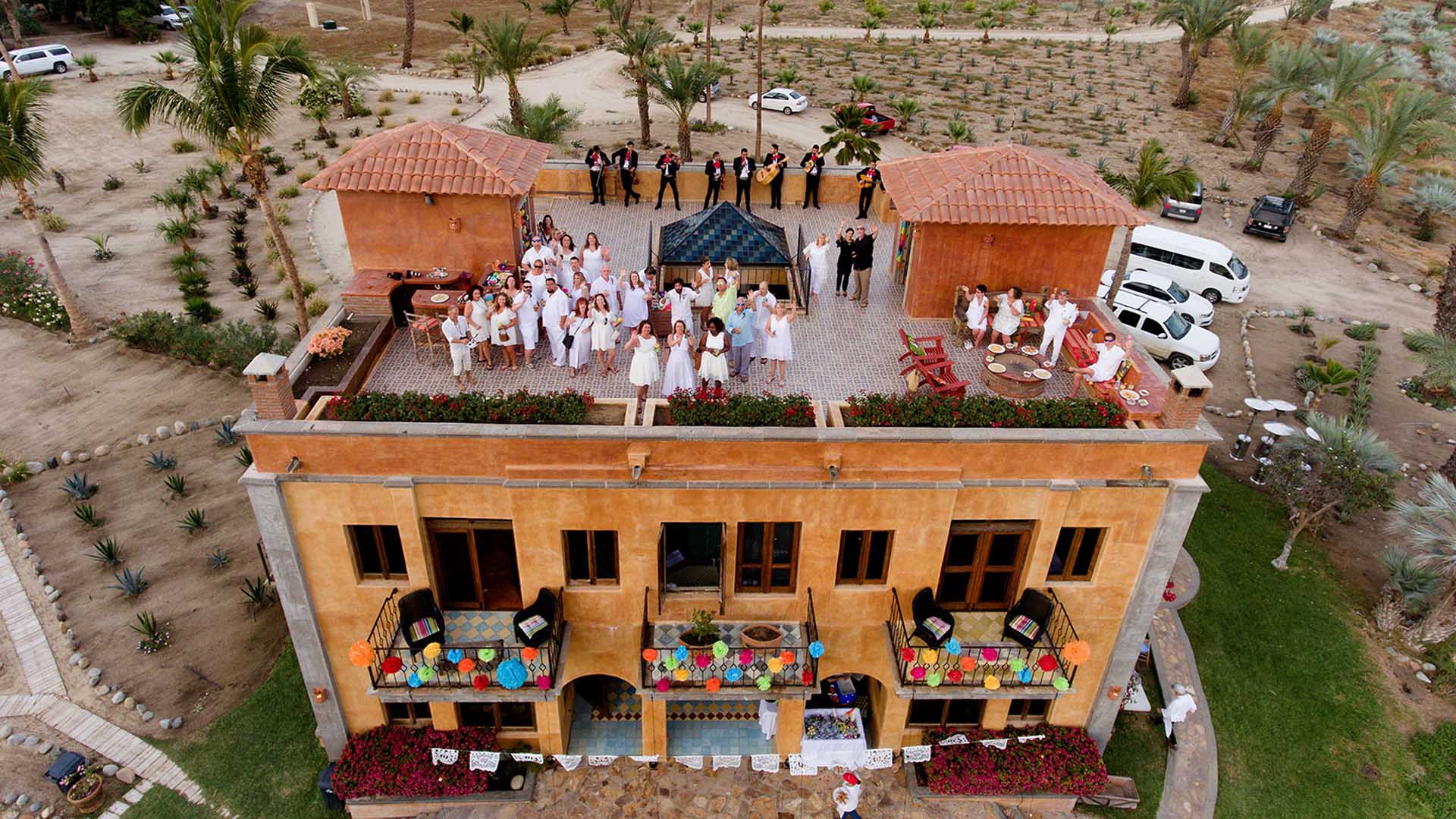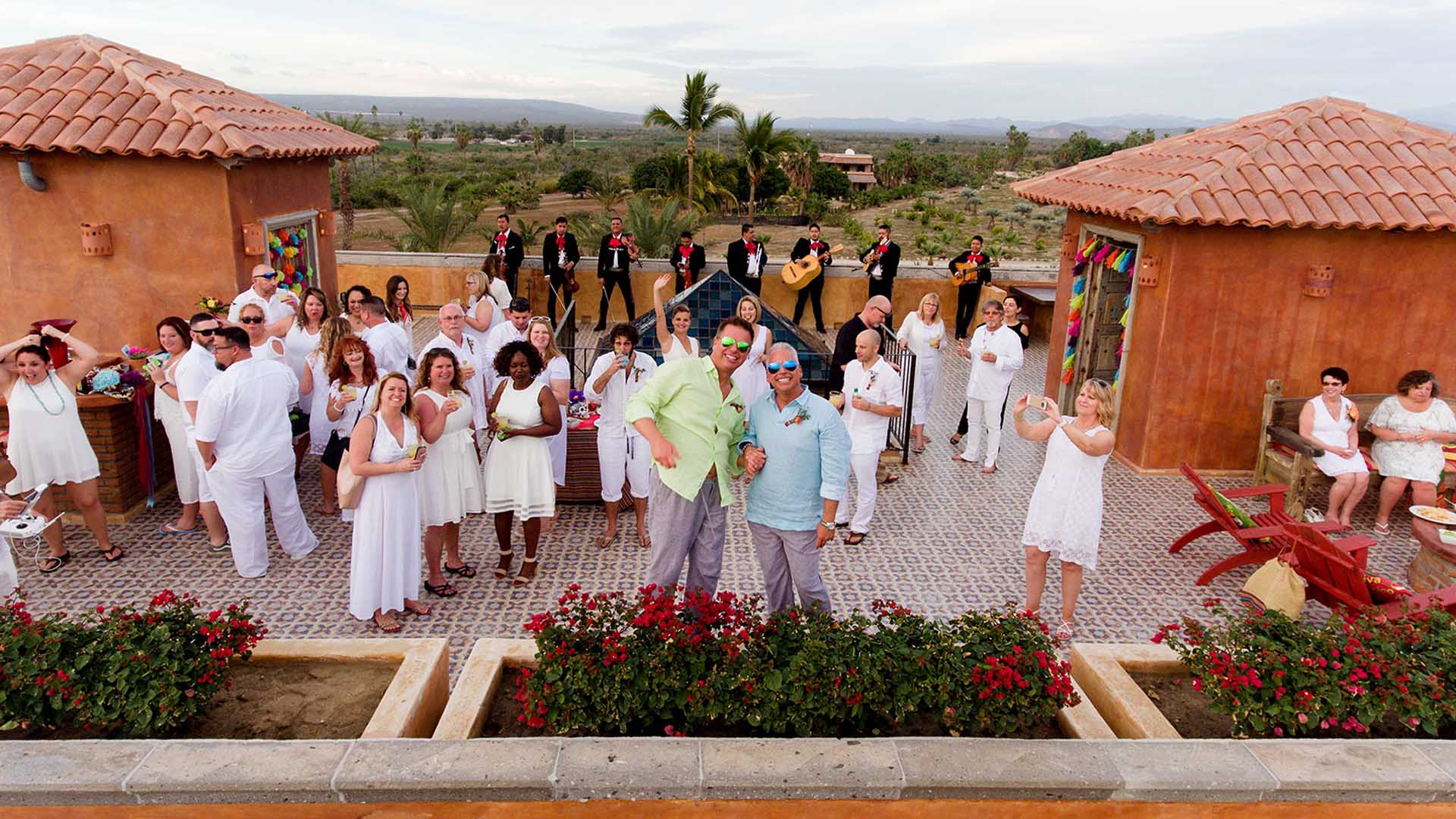 What a fun Photo Booth with the best props – we love the taco with a bite taken out!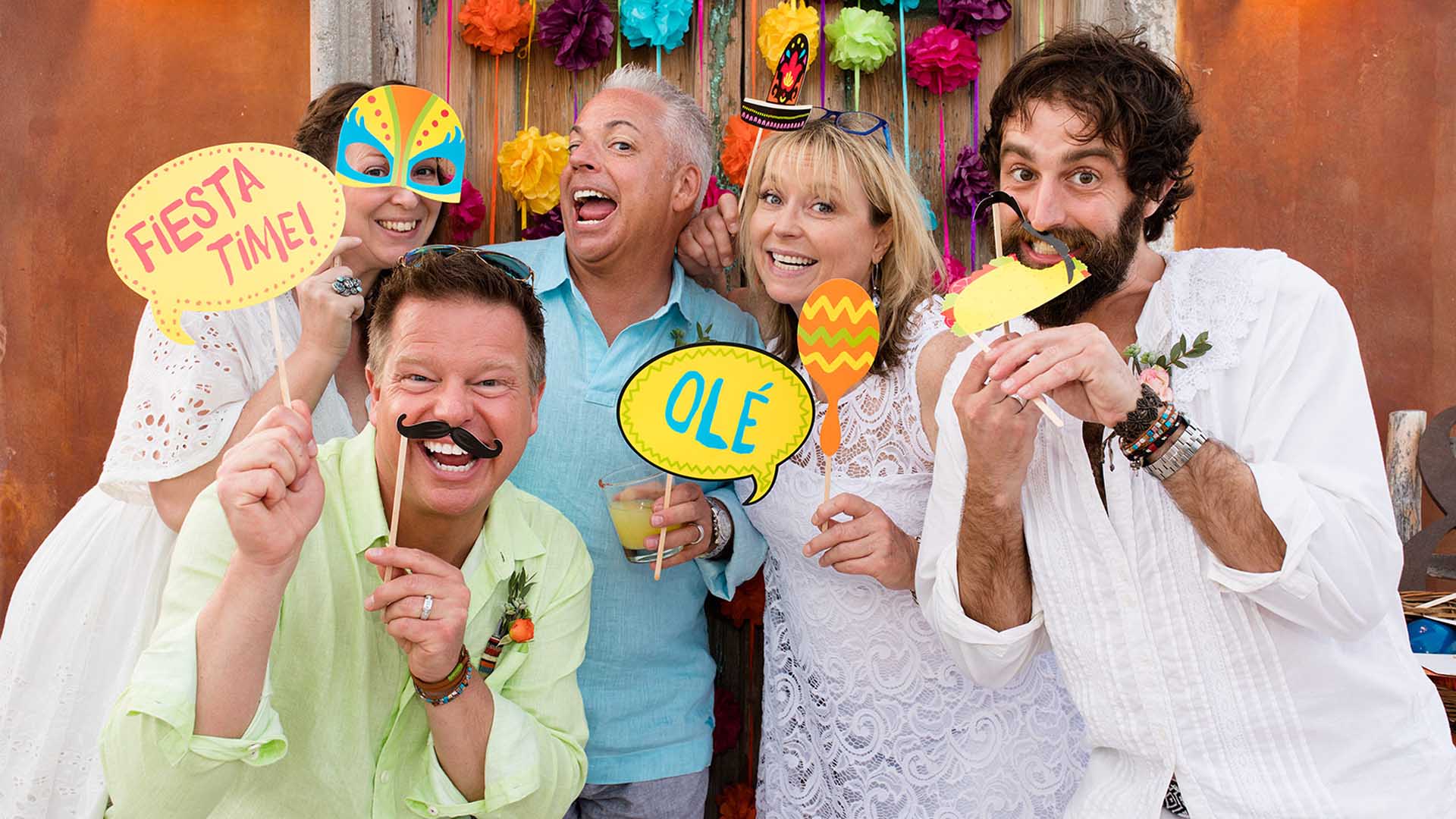 The colorful reception awaits!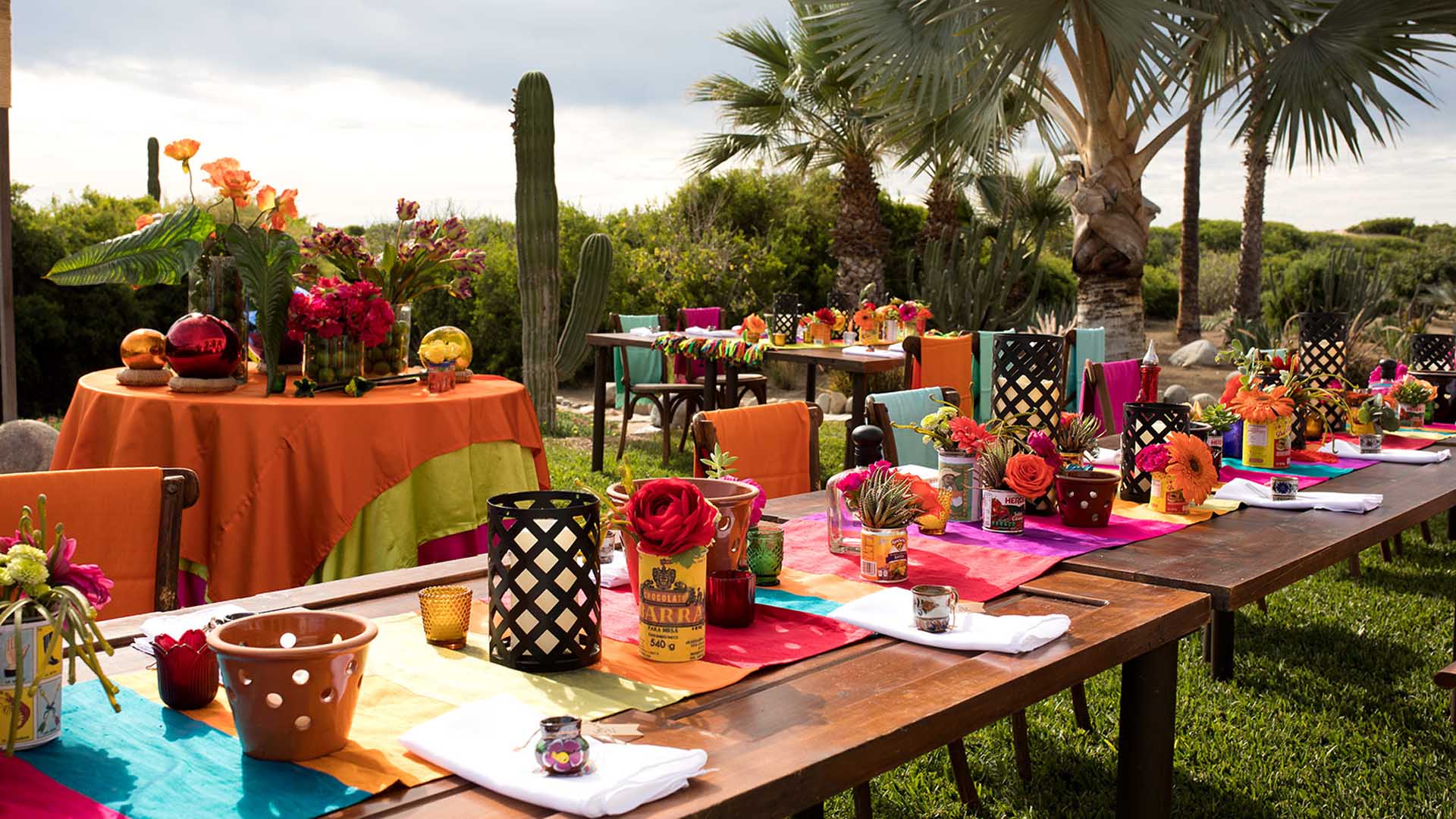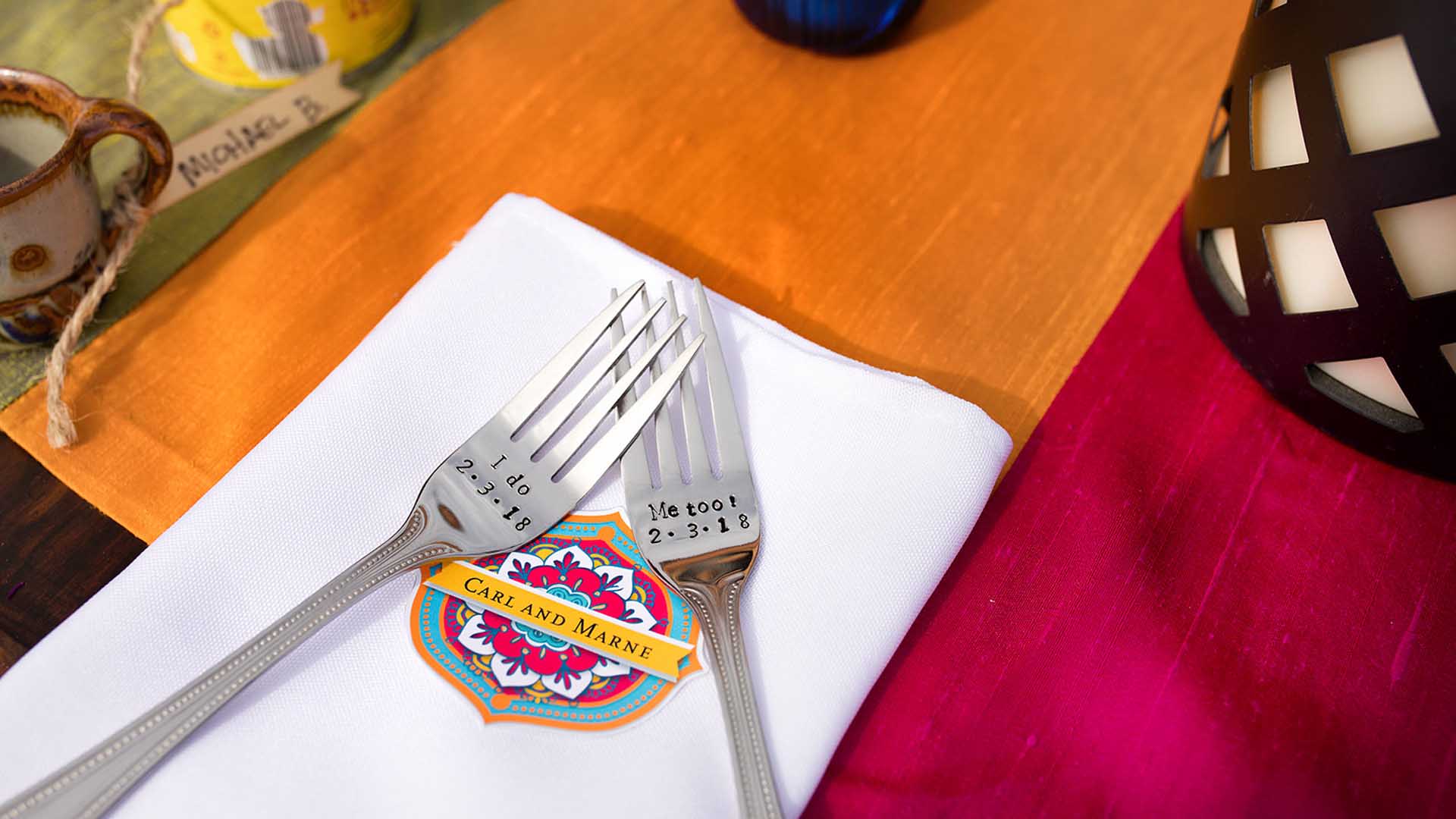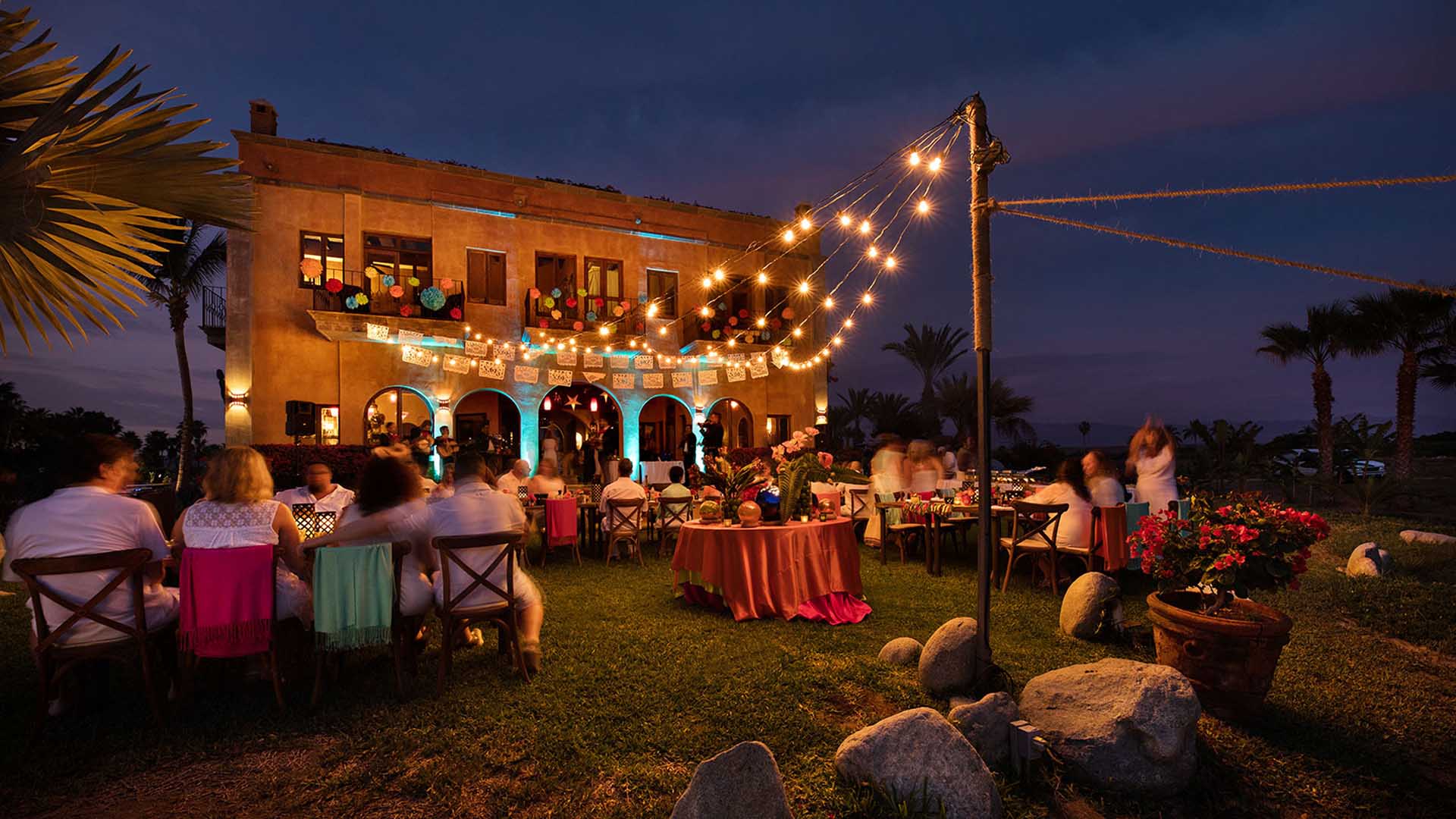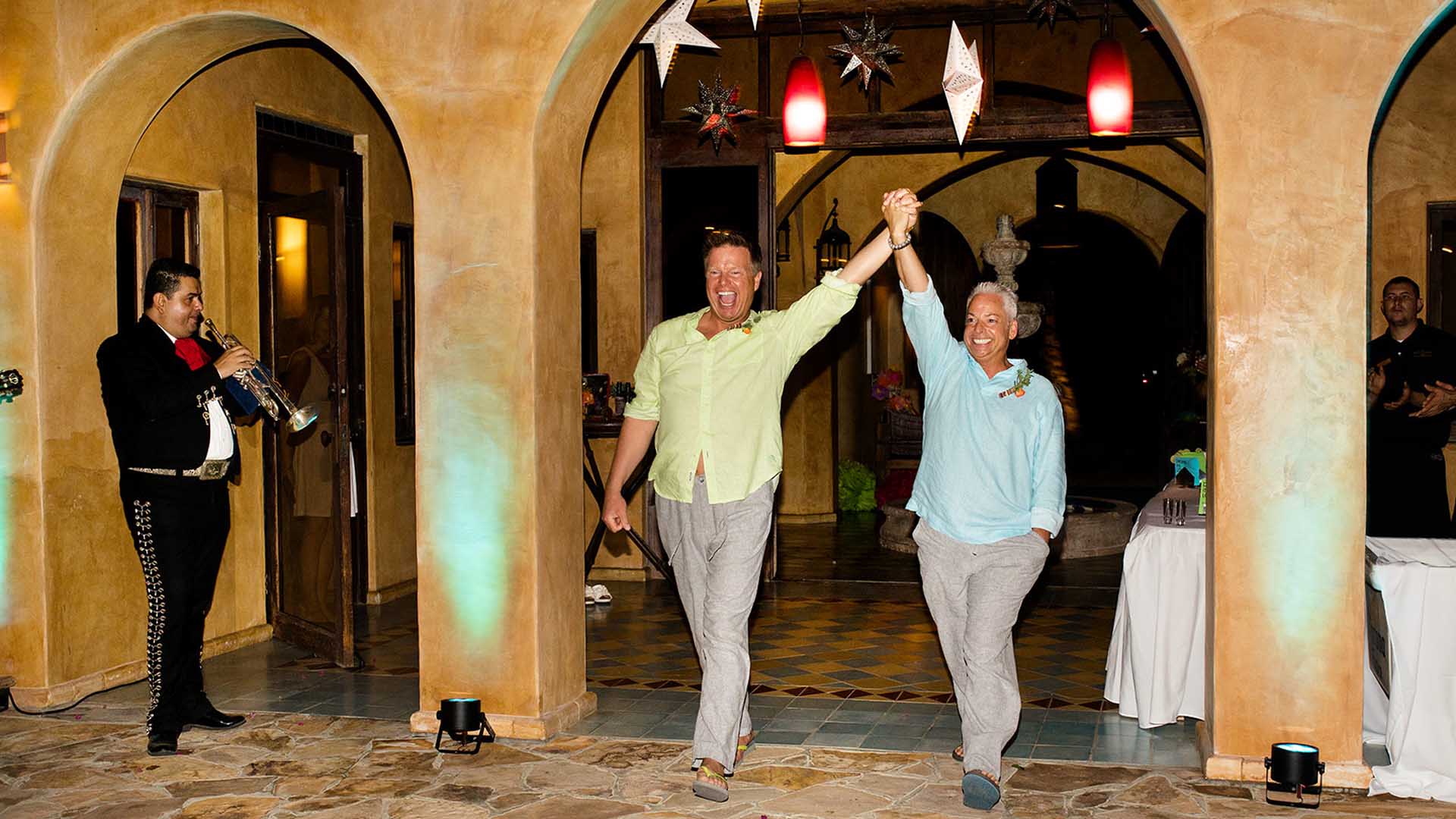 We love you Carl & Marne!  We wish you a happy life together – and, come back and visit often!