Villa Santa Cruz, Boutique Hotel on the Beach, in Todos Santos, Baja Sur, is an amazing wedding venue for a bride and groom with beachy boho style! Just take a look at Kea & Lorrin's fun and festive wedding from Saturday night. The couple's funky and creative details brought the wedding to life – we love the seating chart mounted on a custom surfboard, their colorful sparkle sombreros and tasty margarita cupcakes made with tequila!
With a simple wood trellis decorated with strands of beach shells, Kea & Lorrin exchanged vows in front of friends and family. Local Todos Santos officiant, Steve Monaco, presided over the ceremony.
After escorting his mother down the aisle, the groom gave her a sweet hug.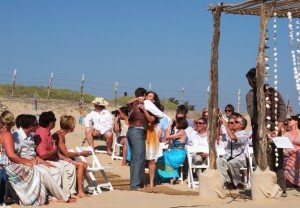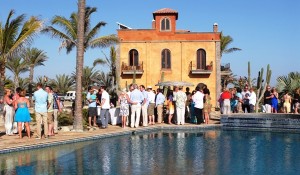 The guests enjoyed cocktails and delicious appetizers catered by the Hotel California. The menu included pineapple salsa, flautas with roasted peppers and goat cheese, and, of course, margaritas. And This custom surfboard, a gift to Kea & Lorrin from a friend who owns a surfboard shaping company, has an illustration of the Villa and agave fields right on the front! It was the perfect set up for the seating chart.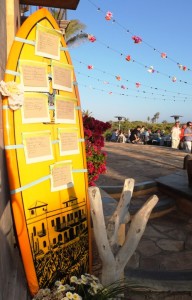 Barb & Jan of Pueblo Magico Weddings were on point with the flowers & decor for Kea's beachy boho theme. From the handmade rag ropes and antique lace tablecloths to the succulents, paper flowers and beer bottle rose vases, the table settings were fun, bright and authentically Mexican.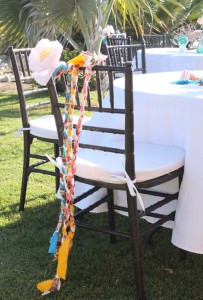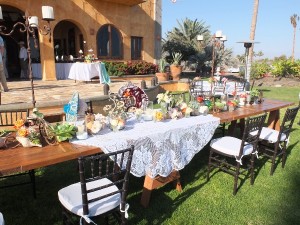 The Villa's aqua beach buggy funks up this photo shoot! Kea & Lorrin enjoyed tooling around Todos Santos in this crazy rig during their wedding week.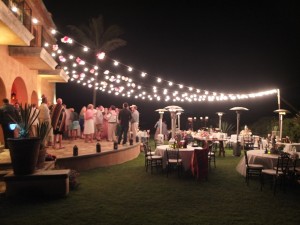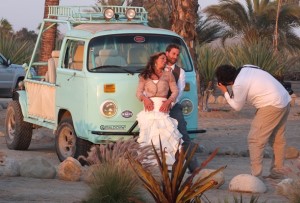 After hours of dancing on the Villa's back patio, the party moved to the beach where guests kept warm next to a bonfire and released Chinese wish lanterns into the night sky (notice that the rag ropes that decorated the reception chairs became "stylish" headbands as the night wore on!).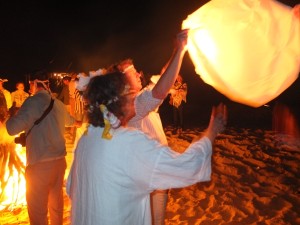 It was a gorgeous wedding for Kea & Lorrin. We wish them love to last a lifetime.