Our intimate, four room boutique hotel is a hidden gem on the Pacific Ocean. Inspired by traditional hacienda architecture, Villa Santa Cruz evokes the feeling of authentic Mexico. The central atrium features stately archways, a classic cantera fountain, and an open skylight roof.
If you have booked an individual room and will be staying a hotel guest (rather than a vacation rental), you will find that morning coffee service, breakfast and lunch are the cornerstones of our hospitality. We begin the day by delivering a tray of coffee/tea to your door at sunrise. Wake up slowly and enjoy a quiet morning from the privacy of your balcony, and then join us downstairs for a delicious, hearty breakfast. We offer freshly squeezed orange juice, fresh fruit, bagels and one egg dish – our guests love the Mexican quiche, zucchini fritters with poached eggs, and breakfast burritos, just to name a few.
Lunch is offered daily at 1pm. After breakfast, let us know if you will stay for lunch. We cook one Mexican-inspired lunch dish each day – our favorites include fish tacos, turkey enchiladas in a salsa verde, tamales and more.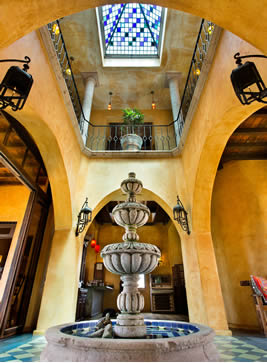 Each of the hotel's four rooms includes private bathroom, balcony, and ocean view. Two night minimum stay required.
Room Rates Include
– Welcome Margaritas
– Tray of coffee/tea delivered to your room in the morning
– Continental breakfast with an egg dish
– Fine Cotton Bathrobes
– Wi-Fi (throughout the Villa and Pool)
– Purified Drinking Water
Lunch offered daily at $15 USD/person.
If you have booked the Villa as a vacation rental, you will have full access to the kitchen to prepare meals or hire one of the talented chefs in Todos Santos to take care of your culinary needs. Please inquire for more information.