With a choice of two different cooking classes at Villa Santa Cruz, you'll be sure to leave with a few new skills in the kitchen. Choose from Chef Dany's fine dining class (with optional wine pairing) or Chef Iker's more casual class.
Fine Dining Class with Chef Dany
The head chef of the Hotel California, Dany Lamote, will teach you to prepare terrific Mexican dishes with fresh local and seasonal ingredients. He blends traditional Mexican cooking techniques with French, Asian and Italian styles and introduces his students to obscure Baja foods – nopales (cactus paddle), izote (yucca flowers) and damiana (a desert shrub).
The class lasts approximately 3 hours – cooking for the first half, and dining during the second half. Each class begins with a welcome margarita and ends with a tasting of Hotel California's award winning tequila. Each student leaves with a set of recipes.  You can "upgrade" the experience with a tequila and wine pairing that compliment the meal. Great for couples, groups of home chefs, foodies and wine lovers.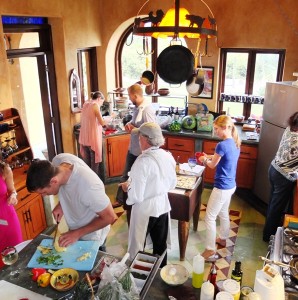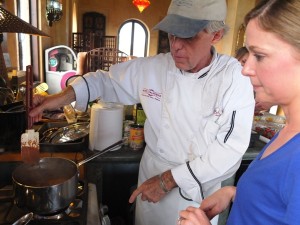 Here is a sample 5-6 course menu:
First Course
Mexican Style Carpaccio
Second Course
Shrimp Brochettes on Rosemary Skewers, Coconut, Chipotle, Tequila Cream Sauce, Fried Slivers of Ginger
Third Course
Mini Chile Rellenos with Crab and Three Cheeses, Fresh Pineapple Salsa
Fourth Course
Organic Desert Greens Drizzled with Baja Olive Oil, Hearts of Palm, Agave Glazed Pecans, Lamb Served with Nopal, Goat Cheese and Cuitlacoche Crostinis
Fifth Course
Dorado with Spicy Salsa Verde, Capers, Olives and Artichoke Hearts
Dessert Course
Avocado, White Chocolate and Tequila Milkshake
Pricing begins at $100 USD/person for the basic class, $175 USD/person for upgrade with wine/tequila (includes 1 glass wine/tequila per person per course).
Chef Iker's Casual Cooking Class
With Chef Iker, you'll have a fun, authentic Mexican cooking experience from an expert in the kitchen.  Learn his secret margarita recipe, make tortilla chips from scratch, and learn to prepare delicious sauces to accompany fresh fish, chicken, pork and steak dishes.  He might even give a quick salsa dancing lesson! $70 USD/person.